MERCURY

The Moon's Look-Alike
With a surface covered in craters, Mercury closely resembles the Moon in appearance. However, terrain has also been discovered peculiar to Mercury and not seen on the Moon. Many mysteries remain as to how this was created.
Mercury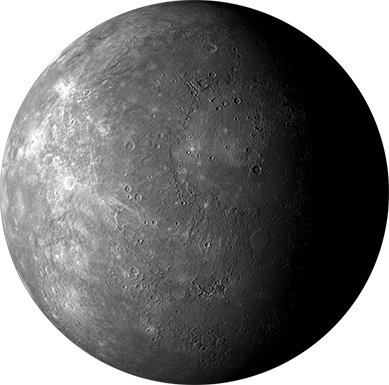 Moon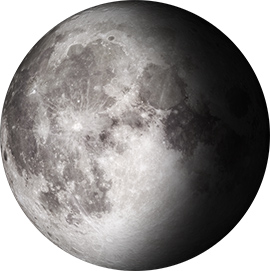 Moon:NASA/Goddard/Lunar Reconnaissance Orbiter
600

℃

Temperature Difference
between Day and Night
Mercury is a planet with a very harsh environment. As the closest planet to the Sun, Mercury receives sunlight ten times stronger than that on Earth. The surface temperature of Mercury reaches as much as 430 ℃ during the day. At night the temperature drops to about minus -170℃, because of heat escaping into space due to the lack of a thick atmosphere such as on Earth.
430

℃
~170

℃
600
℃
temperature difference
500
400
300
200
100
0
-100
-200

℃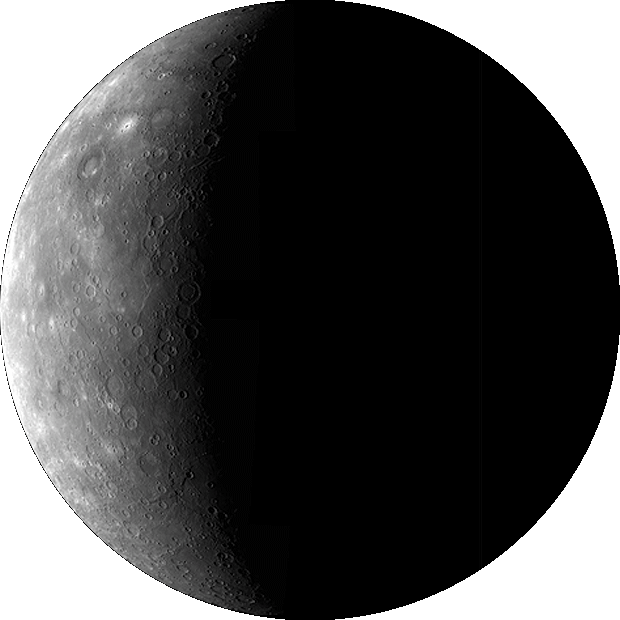 NASA/Johns Hopkins University Applied Physics Laboratory/Carnegie Institution of Washington
Small but Dense Planet
Mercury is the smallest planet in the Solar System, with a size less than half that of the Earth. Despite its small size, the density of Mercury is roughly equal to that of the Earth and it is thought that the interior contains a huge iron core extending to three-quarters of the radius of the planet.

Mercury
4,880

km
5.43

g/cm3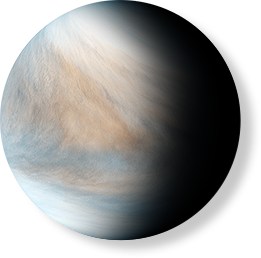 Venus
12,104

km
5.24

g/cm3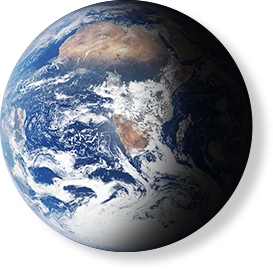 Earth
12,756

km
5.52

g/cm3

Moon
3,476

km
3.34

g/cm3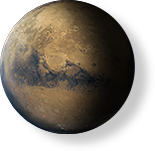 Mars
6,787

km
3.93

g/cm3
Mars:NASA/JPL-Caltech/USGS Earth:NASA Moon:NASA/Goddard/Lunar Reconnaissance Orbiter
Magnetic Field like Earth
Mercury also possesses a magnetic field with a strength of around 1/100th of that of the Earth's. A flowing liquid inner core is necessary for a planet to generate a magnetic field. Why Mercury, the smallest and easiest planet to cool and solidify, still has a magnetic field is a great mystery.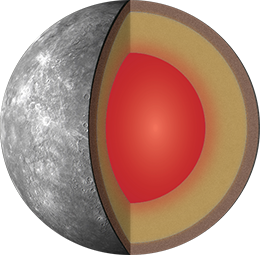 Core
Fundamental parameters
Mercury

Average
orbital radius0.39 AU
Rotation
period~55 days
Revolution
period~88 days
One day
period~176 days
Parameter

Average
orbital radius
Rotation
period
Revolution
period
One day
period
Earth

Average
orbital radius1 AU
Rotation
period~24 hours
Revolution
period~365 days
One day
period~24 hours